Well, I'm back, and in one piece.
The trip was good, China is still much as we found it, and I'm appropriately loaded down with loot from the Beijing markets. Most of this loot is in the form of DVDs, which Asian countries are so good at producing for reasonable prices, such as $50 for 5 seasons of B5, etc. There is this funky new HBO series called Rome which looks a bit like an imperial version of Deadwood – I'll let you know if it's any good.
I won't bore you with pictures of all the places we went, since most of them were the same as last time. Instead, for the photos that are shown, assume that they are on top of a mountain, surrounded by many miles of steps, tiered corn fields, and seedy looking guys hocking 'Roolekks cheap' brand watches.
Last time I went, only two people got sick, one of them being me, and in both cases it was not particularly serious. This time was somewhat different, with the amount of health problems more closely resembling being smitten with a biblical plague than the usual travel maladies. 1st prize has to go to a Wing Chun student named Sam, who suffered from a severe food poisoning bout, a prolonged asthma attack and a panic attack all while jammed in a train carriage with 150+ locals for six hours. In the end, train officials -rather forcefully- removed a lot of the gawking locals who didn't have tickets to be in the carriage, and called for doctors. There turned out to be around 8 doctors on the train, but failing any magical cures, Sam had to ride out the illness, with his arms and legs convulsing due to prolonged lack of oxygen. Fun stuff. He bounced back okay, so we didn't get to divvy up his belongings. I got minorly sick twice at the start of the trip, but otherwise weathered all the sicknesses quite well.
Not that the food that was making us sick wasn't enticing. Here is a sample of China rail's cuisine: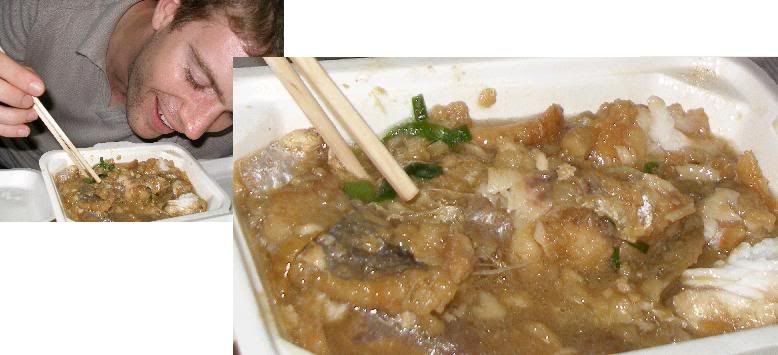 Think it looks poisonous? Tigger_au doesn't know it, but in about two hours he's going to be very ill. I'll leave him to provide all the details, since barfing most of your major organs into a Chinese train loo is kind of a personal thing.
Other delicacies that were in the weird but non-lethal category were the French Fries they served in Dengfeng, which were heavily coated in coarse white sugar. Also worth noting was this drink, grabbed at random from a 7-11 fridge in Hong Kong in order to break a large note for change. The label said Ginseng & Honey.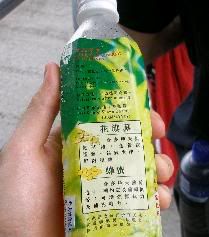 It was purchased with the intent that it should provide honey-like refreshment. It's stated ingredients were American Ginseng, Natural Honey, and Purified Water.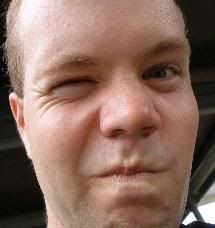 And here is a pic of me wincing at it's god-awful taste. I felt compelled to take this as evidence of the overwhelming flavour of Used Socks that they hadn't included on the ingredients list. Others described the taste as like 'bark', 'dirt', and other four letter words.
Other highlights in Hong Kong were finding Ned Kelly's last stand, the Kiddie-fiddler express toy store, and all the pertinent rules for being issued an Octopus. It's good that they're written down somewhere.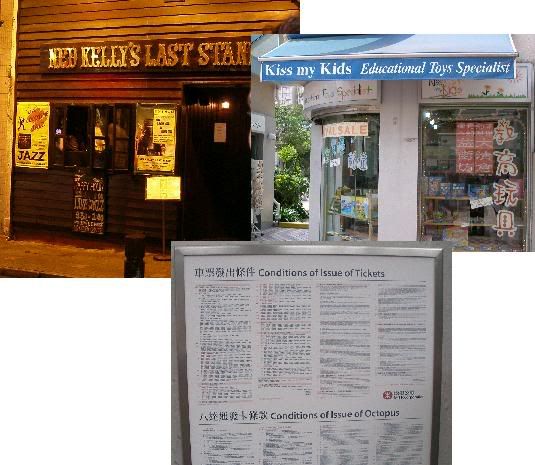 As promised, we climbed the two mountains that we climbed last time, being Mt Wudan and Huashan. In both instances I cut about 10 minutes off my previous time taken to climb them. With Mt Wudan, the guide was extremely insistent that we not try and climb the mountain on our own, repeatedly asking if we were sure if 'the women' could make it up. Incidentally, Amy, a yellow-belt from our Sydney school made it to the top first, along with a very fit tai-chi student named Sunny. I pulled in third.
Amy, who is moving to Melbourne after finally realising how much better than Sydney it is, can be seen here with Grandmaster Shi Yán Sén and myself, arranged by height, as is tradition in Shaolin.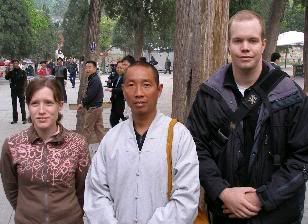 Shi Yán Sén, one of the Shaolin Monks, was one of two Grandmasters we studied under while in Shaolin. We also studied with a Wudan Grandmaster while we were in the Wuhan area. Shi Yán Sén autographed my kung fu journal, so he's cool in my book. If we look a bit like we're not having any fun, it's because we're facing 20 other students who, like me, are wondering at what point Mr Nice Monk gets pissed off with all the photos and becomes Mr I'll-make-you-eat-that-Camera Monk.
Anyway, I have about 400 photos, some of which I'll post at random in the following post, but let me close this one in the fashion that you should have come to expect by now.