Wow, this week has melted my brain. Too much looking through legislation.
In three weeks, Snakes on a Plane hits local cinemas. Who wants to come see it? It'll be like watching a train-wreck in action! A novelization and audiobook are currently in production. Not since the heady days of Mortal Kombat: Annihilation have we seen such an event.
Anyway, were you aware that while only having 4 paws, it's possible for a cat to have light fingers?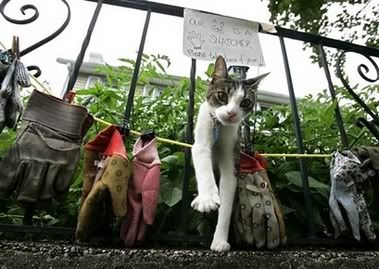 "Willy, a 1-year-old cat is photographed Thursday, July 20, 2006, with a display of several pairs of garden gloves that he took from unknown yards in his neighbourhood in Pelham, N.Y. Willy has brought home nine pairs of gloves and five singles over several weeks laying them on his owners' front or back porches." More here.
Oh, and gypsyamber, I think you need to turn this into an icon.